Contribute by Cheque / Bank Deposit
All Donations for Temple Thirupani are tax exempted as approved by Lembaga Hasil Dalam Negeri.
Potongan Di Bawah Subseksyen 44(6)
Akta Cukai Pendapatan 1967:
Rujukan : LHDN.01/35/42/51/179-6.8037
Tempoh Kuatkuasa Kelulusan: 01.04.2016 – 31.03.2019

Please write your cheque payable to "Arulmigu Arumugaswamy Dhevasthanam" and bank in to our PUBLIC BANK account or post to our address as below together with the completely filled up donation slip:
Mailing Address
Arulmigu Arumugaswamy Dhevasthanam
Jalan Jubli Perak
01000 Kangar, Perlis
Malaysia
Download Our DONATION SLIP Here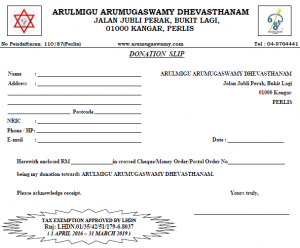 Banking Information
Payee Name : Jawatankuasa Pengurus Arulmigu Arumugaswamy Dhevasthanam
Account Number : 3196274519
Bank Name : PUBLIC BANK
SWIFT Code : PBBEMYKL
Notes:
Please email your payment confirmation slip to arumugaswamysecretary@gmail.com or hari.ram@lycos.com after you have deposited the money or cheque.
Receipts will be issued within 2 weeks of bank statement confirmation.